Ruth Epting (1919–2016)
Pioneer of the women's movement within the Reformed Church and trailblazer in women's ecumenism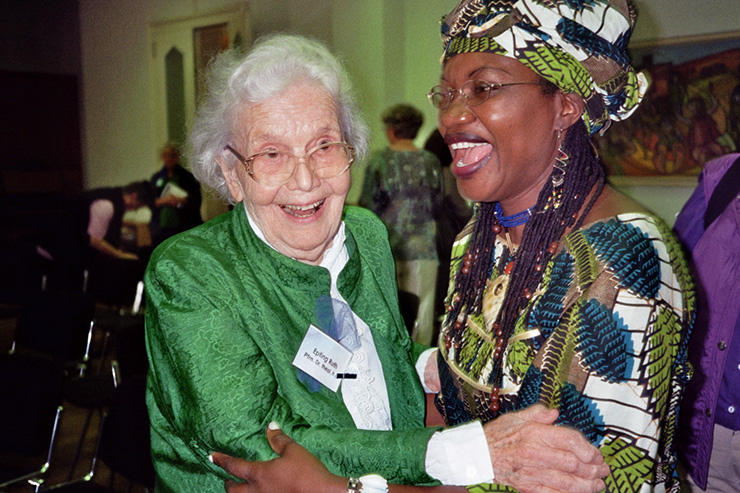 "We have seen what it means – even for those who have nothing to say in the churches – that they get the sense that there are women with the courage to act, so that we could also do the same. … And many initiatives have grown out of this."
Ruth Epting grew up in Basel, as the daughter of a teacher from southern Germany and his wife Johanna, the daughter of Swiss missionaries in India. The mission house where she was born and where her father was a teacher would shape her entire life. Epting was the youngest of five siblings.
From 1939 to 1941, she trained as a congregational assistant at Berlin's Burckhardthaus and completed the seminary for women's ministry. It was only after the death of one of her brothers on the front during the Second World War that she received permission from her parents to study theology in his place in Basel, beginning in 1942 (with Karl Barth among others), and at the Confessing Church center in Berlin. She later described the war period as a moment in which you have to decide which values are important. "Being a Christian requires us to take a stand." Some of her professors were arrested or sidelined, and Epting spent the end of the war safe in Switzerland.
In 1946 she became a trainee pastor in Basel, while also caring for her seriously ill mother until her death. From 1948 to 1953, she devoted herself as a traveling secretary to the reconstruction of the women's and youth work of the CVJF (YWCA) in Germany and helped traumatized young women with pastoral care, further training, and relief supplies. Beginning in 1954, she supported the women's and girls' Bible study groups in Switzerland as secretary, then becoming a clinic chaplain and pastoral assistant. She set up women's groups there and networked them across denominational boundaries. Although ordained, Epting could not yet become a pastor as there had yet to be a legal basis for it. In 1955, together with theologians and the Basel Church Council, she campaigned for passive women's suffrage in the church, and the church constitution was amended to that effect in 1957. Epting then became one of the first female pastors in Basel (1960-1974). Since the pastorate for women was associated with celibacy at the time, Epting remained unmarried throughout her life. She repeatedly campaigned for female church leadership and presented a study on the issue to her church. She established that it was there were fewer theological than social and sociological reasons that had been keeping women away from ministry and influence within the church for so long.
From 1971 to 1972 Epting served as a New Testament lecturer at the Theological College of the Presbyterian Church in Cameroon. And through 1981, Epting was active as a consultant for adult education at the Basel Mission and secretary for women's work on three continents (Africa, Asia, and Latin America). She initiated the change of the house from a seminary to a meeting center for people from the First and Third Worlds. For her, mission always meant a life of faith in ecumenical openness.
In 1975 she entered the women's ministry for the WCC as women were allowed to speak at the Assembly (in Nairobi) for the first time. One woman's contribution there in fact led to one of the WCC's most important interventions – advocating against apartheid.
The WCC subsequently asked her to moderate the Consultation of European Christian Women held in Brussels in 1978. This resulted in the founding and development of the Ecumenical Forum of European Christian Women (EFECW), in which Catholic women are also represented. Epting and her colleagues pushed ahead with their plans, not without opposition from their own churches, which did not wish for a women's council. They did, however, accept the introduction of a forum with the goal of equal participation of women in church structures at all levels. In order to make new contacts and to encounter forms of female spirituality from other denominations, Epting visited Orthodox convents in Romania and Greece, among other places. Epting became Forum Chair in 1982 and then Honorary President in 1986. She was thus able to promote the participation of women in the European ecumenical movement.
Epting was considered to be a good listener and saw listening as a way to peace. "From West to East, it is our task to listen to one another." Epting had a vision of a reconciled and peaceful Europe and had a great desire to empower women and promote their talents. This was one of the reasons that prompted the Ecumenical Forum of European Christian Women to launch a fund in her honor to support women new to global ecumenism.
Other articles on this topic «Swiss Disciples»