Paul Vogt (1900–1984)
Refugee pastor with a keen eye for social problems and builder of bridges between Jews and Christians
"Mother of the Refugees" and symbolic figure for Switzerland's humanitarian tradition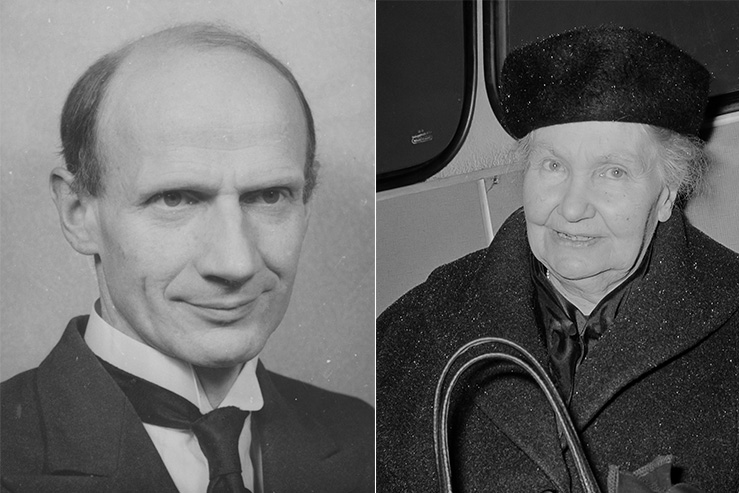 "God has placed different Lazaruses before church doors and before the front doors of Christian homes at different times. […] Today God is placing the members of the Jewish people in front of the doors of Christian homes and Christian churches." (Vogt 1939)
Paul Vogt, who grew up in Stäfa, Canton Zurich as the son of a preacher from Silesia and was influenced by his Pietistic home, would go on to become known as a refugee pastor. He was guided throughout his life by the words of Christian Friedrich Spittler: "Don't complain, lend a hand!" From 1922 to 1926 he studied theology in Basel, Tübingen, and Zurich, to then become a trainee pastor at the Neumünster in Zurich. In the years that followed, Vogt served as a pastor in Ellikon an der Thur and then in Walzenhausen from 1929. With a keen sense of people's needs, he began to advocate for the disadvantaged early on. With the support of friends and the congregation, he founded an aid organization for unemployed people in Canton Appenzell Ausserrhoden.
In 1933, Vogt founded the "Sonneblick" social care home there for training courses and recreational stays. Based there, he quickly became an initial contact for refugees from the "Third Reich", and as early as 1935 he provided refuge to Jews, whom he saved straight from the Rhine and Lake Constance. Vogt had an open heart for people across national borders and became a co-founder of the Swiss Central Agency for Refugee Aid. He took on an informed and critical position towards Swiss politics. Together with the Reformed theologian Karl Barth, Vogt founded the Swiss Protestant Relief Organization for the Confessing Church in Germany (SEHBKD) in 1937 to provide material and theological assistance to members of the Confessing Church. Vogt would not, however, remain unchallenged within the church with regard to his commitment to those persecuted by the Nazi regime, especially during his time as pastor in Zurich-Seebach (beginning in 1936). While most of the official representatives of the churches gave tacit or explicit approval to the government's policies, Vogt courageously protested, in letters to the governmental authorities, that there were no legal entry options for people who could be provided refuge from the concentration camps. He expanded the work of the SEHBKD to include small individual donations to support refugees, collecting 70,000 donor addresses by the end of the war. Vogt also initiated the Freiplatz campaign, in which he organized accommodations for several hundred Jewish refugees in Jewish and Christian families, beginning in 1943. He was able to accommodate a large number of children, mothers, elderly, disabled, and the infirm. And he needed to overcome prejudice and trauma on both sides to this end.
Vogt traveled all around the country, appealing to people's consciences and raising awareness for the "terrible truth" about the persecution of the Jews. In August 1942, for example, the refugee pastor reported in a sermon that 3.9 million of a total of 4.2 million Jews in Poland had been murdered. In opposition to the cautious approach of the Swiss government, Vogt professed disobedience and was not afraid to hide Jewish refugees. Lastly, from 1943 to 1947, Vogt became pastor to refugees at Zurich's Wasserkirche.
After the war, Vogt campaigned for permanent asylum for the remaining Jews in Switzerland and for improved understanding between Christians and Jews. He also advocated for the recognition of the State of Israel. Vogt was one of the founders of the Christian-Jewish Working Group, the Swiss children's village Kiryat Ye'arim in Israel, and the "Best Hope" rehabilitation center in Herisau.
"He viewed himself – and this brings us to Vogt's theological foundations – as a servant of his master, one who needed, wanted, and was allowed to work to alleviate suffering. Vogt tended to devote himself to this service with all of the strength at his disposal." Herrmann Kocher
"We can only justify our existence by giving and giving … by sharing all that is good with those who have lost everything."
Gertrud Kurz grew up in Lutzenberg, Canton Appenzell Ausserrhoden in a Protestant and socially active family of textile manufacturers. Her mother was a Pietist, her father a liberal politician. Kurz married and left for Bern, where she had three children. Her house quickly became a place of welcome for outsiders of all kinds. Even before the beginning of the Second World War, she founded Kreuzritter-Flüchtlingshilfe ("Crusader Refugee Aid", today: Christian Peace Service), a private aid organization based on the model of a worldwide ecumenical lay movement, providing intangible and material help to those who were not receiving assistance from the usual agencies. The first Jewish refugees arrived in Bern in 1938 and Kurz provided them with uncomplicated and rapid assistance. But the Jewish refugees were not allowed to work. The government sought to encourage them to continue their journey onward and finally closed the borders to them in 1942. The authorities justified this with an overburdened job market and the risk of foreign infiltration. This did not stop Kurz from continuing to selflessly provide practical help to refugees, which earned her the moniker "Mother Kurz". Her greatest motivation was Christian charity. She provided refugees with housing and security and helped everyone regardless of their political or religious orientation. Women in particular supported Kurz's efforts with food, money, and clothing. Kurz answered up to 30 letters a day and had an open ear for the harrowing stories of the people in her care.
The "Mother of the Refugees" intervened personally and persistently with the authorities to maintain open borders for refugees. She indeed did not shy away from confronting Federal Councilor Eduard von Steiger on his vacation in 1942 on the issue of closing the border. The Federal Council did in fact decide to temporarily relax the border ban a short time later.
Kurz also raised public awareness in countless lectures, winning people over with her arguments and humanity, without attempting to appear to be a rebel. The Appenzell native had organizational talent and was well connected, including contacts with Karl Barth and Paul Vogt. The life work of the latter is indeed closely linked to that of Kurz. She was able to accommodate many of her refugees in the summer courses at Vogt's Sonneblick social home.
Kurz was the only woman among the Swiss delegation to attend the 1948 inaugural assembly of the World Council of Churches in Amsterdam. In the decades that followed, she campaigned for Hungarian and Algerian refugees, and her aid organization expanded its work to the Middle East and Africa. In her public appearances, Kurz appealed for everyone to take responsibility in fighting against social injustice, racism, and colonialism, which she saw as the causes of war and displacement. She was twice nominated for the Nobel Peace Prize and received numerous awards.
After her death, friends of hers, including Hans Ruh, then head of the Institute for Social Ethics of the Federation of Swiss Protestant Churches, founded the Gertrud Kurz Foundation, which to this day supports projects to promote the social participation of refugees and critically monitors Swiss migration policy. The Christian Peace Service has now developed into a feminist peace organization.
Alfred A. Hässler explained the source of Kurz' efforts: "It was, as she testified again and again, the power of her unshakable faith in the divine mission of humankind, it was the self-evident nature of how she went about doing what she considered to be her duty, and it was her understanding of the positions of others, of refugees, but also of government officials."