Marga Bührig (1915–2002)
Feminist theologian, peace activist, and women's rights advocate, who made ecumenism accessible to all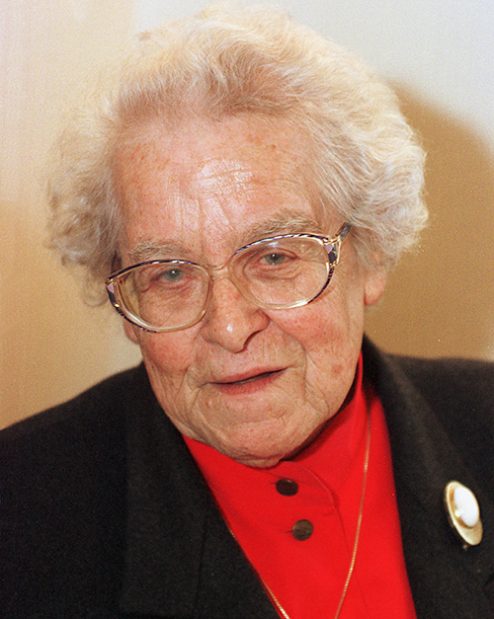 "Loving life passionately – seeking justice passionately. Those are the core values of my life. I pass them on to the women and men who will come after me."
Marga Bührig was born in Berlin in 1915. Her mother's family was rooted in Polish nobility, while her father's family came from the German Baltic. In 1925 she moved to Chur, Switzerland with her family, where the climate was meant to help her father with his lung disease. As a teenager, Bührig often felt lonely and alienated. In her educated-class home, religion and faith were not topics for discussion. Bührig studied German and history and completed her doctorate in 1939. She initially worked as a journalist and teacher.
An incisive experience led Bührig to study theology alongside her professional life: a married pastor, who was her first great love, led her to the Christian faith. She began serving in Bible groups for women and girls and experienced the power of an all-women's community for the first time. Seeking to combine the Bible and the rest of her life, she decided against an academic career and founded a Reformed Christian residence for women students in Zurich in 1945. In her understanding of God, God did not stand above earthly matters, but was involved in human relationships: "The experience of relationship is fundamental and essential to human beings, it is good and powerful, and it is only within that experience, as it unfolds in the here and now, that we can see that the power in relationship is God."
In 1947, Bührig founded the Evangelischer Frauenbund der Schweiz (Swiss Protestant Women's Federation, EFS) and became the editor of the magazine Die Evangelische Schweizerfrau, which later became the ecumenical publication Schritte ins Offene. In 1958, Bührig participated in work on the Swiss Exhibition for Women's Work (SAFFA). Upon her initiative, women from the three national churches came together for a joint worship service. This church is considered the birthplace of the ecumenical women's movement in Switzerland.
For a long time, Bührig was less focused on feminist theology, which she only really came to know in the United States. She was able to apply her travel experience to her work as director of the Boldern Conference Center (from 1971). Her experience led to her increasing politicization and radicalization. As a co-founder of the "Women for Peace" movement, Bührig drew criticism from politically influential circles in Switzerland in the late 1970s. In 1978, she organized a conference in Boldern with the title "Women's Movement – Peace Movement – Common Concerns, New Means and Goals". Her public solidarity with the peace movement and the focus of the conference on women led to violent attacks on Bührig herself. While she felt committed to the gospel all her life, she often experienced the church as being not sufficiently courageous. She was convinced that women could make a singular contribution to solving conflicts through their life experience.
Bührig was associated with the World Council of Churches and the ecumenical movement since her participation as a guest at the WCC's second assembly in Evanston in 1954, and became a pioneer in the ecumenical women's movement in Switzerland. As a representative of the WCC, she became part of a group of Catholic and Reformed women who shared their ideas and goals upon the occasion of the Second Vatican Council. "Even then, the shared experience of women was stronger than anything that separated us," Bührig wrote about the meeting. The group became the Women's Ecumenical Liaison Group in 1968, which she affectionately described as her "child". There she met young radical feminists, people of color, and supporters of the peace movement.
Until her retirement in 1981, she campaigned for a social opening of the church, and for equality and social justice. As a result of her publications and public appearances, she was considered the most distinguished woman theologian in Switzerland, and viewed as open and independent.
Bührig was convinced that feminist liberation theology would inspire and permanently change theology around the world. When, in 1983, Bührig was elected in Vancouver to be one of the seven presidents of the WCC, she had been nominated by her friends without her knowledge. The official Swiss delegation had not nominated her and was quite surprised by the development. From 1988 to 1990, Bührig was moderator of the preparatory group for the World Conference on Justice, Peace and Integrity of Creation in Seoul, and then one of the co-presidents of that conference in February 1990.
Bührig spent the last 20 years of her life with her life partners Else Kähler, with whom she had been in a relationship since 1947, and Elsi Arnold, who had been together with the couple since 1961, in Binningen, Switzerland. Bührig saw herself as a "woman identified with women" who lived in a life partnership that afforded her independence from men. Later in her life's work she also campaigned for the rights of homosexuals and the dignity of single women in the church. She encouraged countless women, well beyond the limits of the church and ecumenical world, to lead self-confident lives as women.
Bührig founded the foundation named after her, which has been selecting winners of the Marga Bührig Award since 1999 for feminist-liberation theological work by women.
Other articles on this topic «Swiss Disciples»